Mark Feldmann
Principal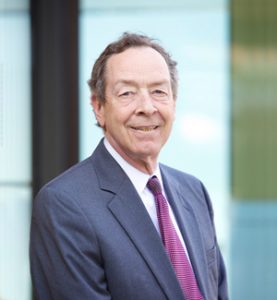 Mark has represented a broad range of clients involved in complex legal matters including business owners & investors, insurance companies & insureds, financial institutions & borrowers, as well as contractors & homeowners. As an experienced litigator and advocate, he works to ensure that his clients' interests are protected and advanced. Mark uses his interest and experience in construction law to regularly advise property owners, developers, contractors, and design professionals in meeting the challenges of significant projects. He also provides legal counsel to assist corporate and business clients in effectively managing their business, while avoiding costly and disruptive litigation. His
Martindale-Hubbell AV Preeminent Rating
results from his exceptional ethical standards and demonstration of professional excellence.
Mark has repeatedly been identified as a member of the "Legal Elite" by Virginia Business Magazine and voted a "Virginia Super Lawyer" by other distinguished members of the legal community. He is featured in the Best Lawyers in America for commercial transactions/UCC law and as a top 100 Attorney in Virginia in the Richmond Magazine.
Education
Hampden-Sydney College (1970)
University of Virginia School of Law (1973)
Representative Work
Business/Corporate
A&G Coal Corporation, et al. v. Integrity Coal Sales, Inc., 600 F. Supp 2d 709 (W.D. Va. 2009)
Brizzolara v. Sherwood Memorial Park, Inc., 274 Va. 164, 645 S.E.2d 508 (2007)
Deane v. Novacare Orthotics & Prosthetics East, Inc., 50 Va. Cir. 418 (1999)
Tanglewood Mall, Inc., Appellant, v. The Chase Manhattan Bank, as Trustee, Appellee, 508 F.2d 838 (1974)
Civil Rights

Litchford, et al. v. Williams, 2005 U.S. Dist. LEXIS 8385 (2005)
Construction
Hopgilkinslock, Inc. v. McDevitt & Street Co., 846 F.2d 71 (4th Cir. 1988)
Blue Cross of Southwestern Virginia v. McDevitt & Street Co., 234 Va. 191, 360 S.E.2d 825 (1987)
Creditor's Rights
In re First Federal Corp., 42 B.R. 682 (W.D.Va. 1984)
In re Musgrove, 7 B.R. 892 (W.D. Va. 1981)
Employment
McDaniel v. Mead Corp., 818 F.2d 861 (4th Cir. 1987)
Personal Injury

Turner v. Manning, Maxwell & Moore, Inc., et al., 216 Va. 245; 217 S.E.2d 863 (1975)
Civic Involvement
Commonwealth Catholic Charities Refugee Resettlement and Immigration Services Advisory Committee
Roanoke Country Club, Inc. (former President/Governor 1982-1986; Counsel 2001-present)
Roanoke Civic Center Commission (former Chairman/Member 1993-2001)
Roanoke Valley Youth Soccer Club (former President/Director 1985-1996)
Catholic Family and Children's Services (former Director)
Roanoke Valley Counsel of Community Service (former Director)
Roanoke Valley Historical Society (former Director)
Experience
Glenn, Feldmann, Darby & Goodlatte (1973-present)
Virginia Continuing Legal Education Programs (Lecturer)
Lorman Educational Services (Lecturer)
Associations
Roanoke Bar Association (Director 1976-1978; 1986-1988)
Virginia State Bar (Special Committee on Bench-Bar Relations, 2006-2011)
Federal Bar Association – Roanoke Chapter
Virginia Association of Defense Attorneys
International Association of Defense Counsel


Authorship

Publications and Lectures

"You and the Law", Roanoke Bar Association, March 2010
Construction Law Update, Brown, Edwards & Co., LLP, November 2007
Fundamentals of Construction Contracts: Understanding the Issues, Lorman Education Services, November 2007
Automobile Liability Insurance, Virginia Continuing Legal Education Committee, October 2003
Selected Construction Law Issues – Pay-When-Paid and Dispute Resolution Clauses, Glenn, Feldmann, Darby & Goodlatte Legal Education Seminar, September 2002
Co-Author, Insurance Law in Virginia, "Chapter 8- Motor Vehicles-Bodily Injury and Property Damage Liability Insurance", Virginia Law Foundation, January 2002