Jeremy Carroll
Principal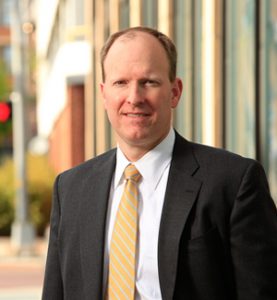 Jeremy represents businesses and governmental entities confronted with a broad range of legal challenges in areas of employment law, local government law, and business law. With his experience drafting employment contracts, policies and procedures, advising clients on legal compliance, navigating clients through complex transactions, negotiating contracts to protect clients' intellectual property rights, and defending clients in complex litigation, Jeremy has the expertise to help clients address a wide range of legal issues. With a strong reputation, Jeremy has been identified as a member of the "
Legal Elite
" by
Virginia Business Magazine
and as a "
Virginia Super Lawyer
" by other distinguished members of the legal community.
Jeremy has extensive experience litigating in both state and federal courts as well as advising clients in arbitration and administrative hearings. As counsel for a variety of localities, school divisions, political subdivisions, and businesses, Jeremy has proven himself to be an effective advocate for a diverse range of clients.
Education
Washington & Lee University (1993), cum laude
George Mason School of Law (1997), with honors
Representative Work
Employment
Session v. Montgomery County School Bd., 462 Fed. Appx. 323 (4th Cir. 2012)
Session v. Anderson, et al., 719 F. Supp. 2d 650 (W.D.Va. 2010)
Session v. Anderson, et al., Civil Action No. 7:09cv00138, 2010 U.S. Dist. LEXIS 12078, 2010 WL 519839 (W.D. Va. February 11, 2010)
Shively v. City of Martinsville, Case No. 4:09cv00010, 2009 U.S. Dist. LEXIS 101816, 2009 WL 3615014 (W.D. Va. October 29, 2009)
Local Government
Lucas v. Shively, 596 Fed. Appx. 236 (4th Cir. 2015)
Sons of Confederate Veterans, Va. Div. v. City of Lexington, Va., 722 F.3d 224 (4th Cir. 2013)
Sons of Confederate Veterans v. City of Lexington, 894 F. Supp. 2d 768 (W.D. Va. 2012)
Pennsylvania Elec. Coil, Ltd. v. City of Danville, 329 Fed. Appx. 399 (4th Cir. 2009)
Pennsylvania Elec. Coil, Ltd. v. City of Danville, Civil Action No. 4:06cv00080, 2008 WL 919535, 2008 U.S. Dist. LEXIS 27630 (W.D. Va. April 4, 2008)
Tarpley v. Virginia State Government, Case No. 4:08cv00009, 2008 U.S. Dist. LEXIS 89358, 2008 WL 4821282 (W.D. Va. November 4, 2008)
Crihfield v. City of Danville Police Dept., Civil Action No. 4:07cv00011, 2007 U.S. Dist. LEXIS 79182, 2007 WL 3003279 (W.D. Va. October 11, 2007)
Tarpley v. Eikost, Civil Action No. 4:07cv00030, 2007 U.S. Dist. LEXIS 75079, 2007 WL 2965044 (W.D. Va. October 10, 2007)
Foster v. W.Va. Water Auth., 81 Va. Cir. 481 (2007)
Litchford v. Williams, Civil Action No. 6:04cv00006, 2005 U.S. Dist. LEXIS 8385, 2005 WL 1000425 (W.D. Va. April 25, 2005)
General Litigation
Russell v. Wright, 916 F. Supp. 2d 629 (W.D. Va. Jan 4, 2013)
Russell v. Wright, 2013 U.S. Dist. Lexis 21489 (W.D. Va. 2013)
Lucas v. Shively, Civil Action No. 7:13cv00055, 31 F. Supp. 3d 800; 2014 U.S. Dis. LEXIS 91686, 2014 WL 3063179 (W.D. Va. July 7, 2014)
Ritzie v. J & J Investments and Sales, Inc., Civil Action No. 4:04cv00039, 2006 WL 328380, 2006 U.S. Dist. LEXIS 8387 (W.D. Va. Feb 10, 2006)
Norfolk Southern Ry. Co. v. Goodyear Tire & Rubber Co., 53 Va. Cir. 245 (2000)
Experience
Glenn, Feldmann, Darby & Goodlatte (2004-present)
Daniel, Vaughan, Medley & Smitherman (1998-2004)
Law Clerk to the Honorable Judge Jackson L. Kiser, United States District Court for the Western District of Virginia
Associations
Roanoke Bar Association
Virginia State Bar
Virginia Bar Association
Local Government Attorneys of Virginia
Virginia Association of Defense Attorneys
Authorship
Civic Involvement
Volunteer, Interfaith Hospitality Network
Roanoke Valley Convention & Visitors Bureau
Youth Soccer Coach
Habitat for Humanity (Board Member)